Shakespeare's

DARK LADY

  (anatomy of an affair)
WHAT THE CRITICS SAY--
VARIETY-LOS ANGELES called DARK LADY--
"...a fine Elizabethan juggle of court intrigue, betrayal, passion, and the poetics of power. Relationship between Will and the dark, passionate, poetic Emilia seethes sexuality ...literate without being precious. Dialog is studded with stunning repartee. Minor characters are surprisingly well delineated... complexly drawn...the plot holds together and the play is rivetting."
IRISH PRESS-DUBLIN said: "a beautiful and evocative love story... utterly beguiling... a seductive night of theater"
SUNDAY TRIBUNE-DUBLIN "sheer adventure of a wonderful yarn".
SPELET-COPENHAGEN said "brilliant"
NEW YORK's VILLAGER said "a masterpiece."
"DARK LADY will be acknowledged a masterpiece if I have the slightest gift for theatre prophecy."
"DARK LADY is one of the best new plays I've encountered in the last decade either here or in England." PLAYS AND PLAYERS-LONDON
EVENING HERALD-DUBLIN "Shakespeare as a lover...rewarding...tightly-written, cleverly-argued ...taut, passionate portrayals."
NEWS-PRESS-SANTA BARBARA "...compelling, engrossing...a living breathing man, crazy in love...the romantic, earthy tale of a compelling physical love."
POLITIKEN-COPENHAGEN "Will and the mysterious lady in his life…the woman he worships, can't get, and knows he can't keep. ...terrible obsession… heroine in all senses of the word...blooms with spirit and discipline of a full-grown woman."
BERLINGSKE TIDENDE-COPENHAGEN "They are in the same boat, the Woman and the Artist in DARK LADY…both dependent upon those who have power and money...passionate portrait…witty, strong, decisive."
"DARK LADY is a powerful, passionate portrayal of two emotionally charged artistic geniuses who meet by chance, love ever briefly, and then are forced apart…" FIVE-CITIES TIMES-PRESS

—and VARIETY described the premise...
..."that Shakespeare's 'dark lady of the sonnets' was Italian musician and poetess Emilia Bassano (1569-1645), mistress to England's Lord Chamberlain."
~~~~~~~~~~~~~
Set in plague-wracked London, the play offers rich supporting roles that bubble with earthy humor. The play was acclaimed in its Danish premiere, produced by Ireland's Abbey Theatre, published, translated into German and optioned for film.
"With a voice both poetic and theatrical, she [Sunde] dramatizes historical epochs in epic scope, making hers a distinctive, even unique, contemporary American drama, more akin to European than to other American plays."
CONTEMPORARY DRAMATISTS-LONDON
Tish Dace, from "SUNDE" entry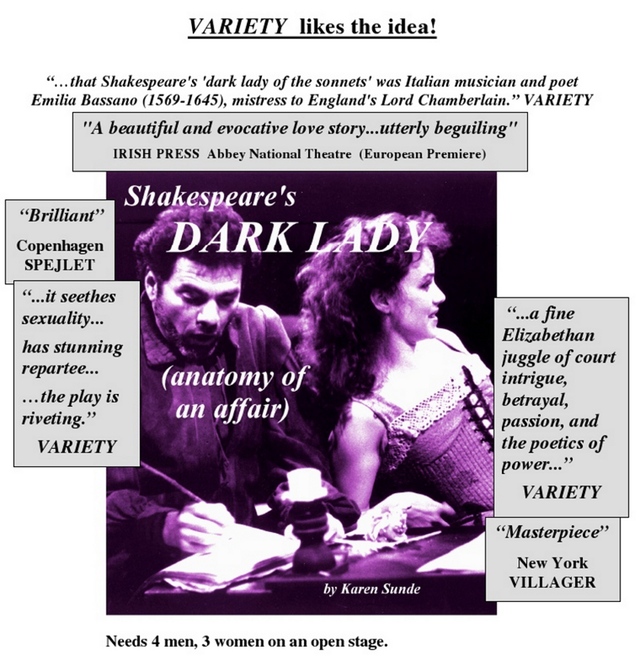 Karen Sunde Program Note
A century is long.
Four centuries - impossible to imagine.
But a child born today and raised near a theatre
will still be most excited, most haunted,
by writer born so many years ago.

He was a country boy. Players came to town.
He followed them to the city, became an actor,
began to write their material.

Popular beauties then were powder-skin blondes.
But someone dark and tempestuous
provoked his passion. Someone musical.

We have never known who.
But now, a woman has been found, a woman dark,
tempestuous, and musical. And more.
This woman was a poet.
It is too delicious to ignore. She was Emilia Bassano.


{ A. L. Rouse found her. }