"Tragicomic, pure, and delicious...absurdly charming... delightfully grand"    TimeOut
HE - a country doctor enchanting to women, whose passion for theatre was both life and death to him.
SHE - the luminous actress for whom he wrote...and their impossible love.
THEY - a company of amateurs inspired to change the theatre, forever.
A breathlessly romantic TRUE STORY begins backstage on the disastrous opening night of THE SEAGULL...
WHAT CRITICS SAY ABOUT TO MOSCOW---

"...the remarkable To Moscow...emerges as an important work ... (Sunde) juxtaposes humor and suspense and grief and elation, leaving us not the tiniest fraction of a moment to stop feeling intensely..." PLAYS INTERNATIONAL

"intriguing...all quickly, skillfully drawn and effectively portrayed... becomes thrilling" BACKSTAGE

"The performances vibrate with the energy and sense of ensemble that brings people to the theatre" OFF-OFF BROADWAY REVIEW

"Sunde makes us love her characters the way the Moscow Theatre actors grew to love the 'ridiculous' Ranevskia of The Cherry Orchard. ...To Moscow is a wonderful, moving, memorable play." NEW YORK TRENDS

VILLAGE VOICE -- "VOICE CHOICE"
OUTER CRITICS CIRCLE -- "Recommended" list

" 'A Warm, Humane Play' ...passionate...extremely strong characterization and dramatic web... Chekhov's life in the theatre, blended with love..." MILLIYET ARTS AND LITERATURE MAGAZINE (at Ankara State Theatre, Turkey)
___________________
TO MOSCOW appears in Scenes & Monologs from the Best New Plays.
CHARACTERS IN ACTION
In TO MOSCOW we meet: bewitching Lika - whom he will not take and cannot let go; his valiant sister Masha - who will sacrifice her happiness; Chekhov's stormy partnershp with irrepressible Stanislavski; plus his star-crossed marriage to the brilliant Olga Knipper; and the final clash over his CHERRY ORCHARD. The ensemble, using the magic of theatre "makes" their story unfold, so giving birth to the iconic MOSCOW ART THEATRE.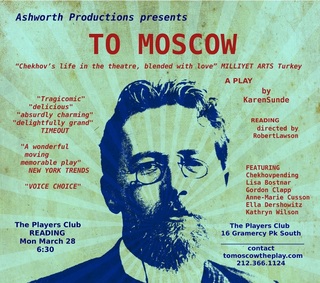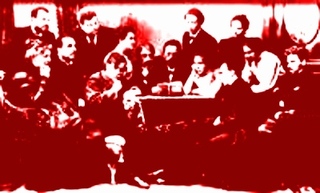 SEE ALSO... CHEKHOVS AT HOME -- Anthology containing three plays:
Please God No Wedding or Shooting at the End, Anton Himself, Masha Too

PLAYWRIGHT'S NOTE: As soon as TO MOSCOW was out there, people began asking me for more plays about Chekhov, so before I was done three more "Chekhov" plays had been commissioned - by Actors' Theatre of Louisville, by People's Light and Theatre Company, Malvern, PA, and by Tisch School of the Arts, NYU, New York.