KABUKI OTHELLO.
"Superbly poetic…magically mixes Elizabethan warmth with haiku-like clarity…hypnotically beautiful, emotionally dizzying." —Chicago Sun-Times

"A visual and aural stunner." —VARIETY

"A feast for the senses." —Philadelphia Daily News

"Mesmerizing, riveting…achieves a momentum that is amazing in its ferocity." —The Mercury, Philadelphia

—The Mercury, Philadelphia

Drama. By Karen Sunde. Conceived by Shozo Sato. A retelling of Shakespeare's story.

Kabuki Othello is a lyric (haiku-like) rendition of Shakespeare's story, Eastern style. Othello, an Ainu (Caucasian native) war hero in Japan; Iago, Othello's officer and husband to Emilia; and Cassio, playboy officer who idolizes Othello, all revolve around the delicate, sure-minded Desdemona, who captures Othello's heart. Emilia prepares the bride, and a wedding night dance makes Iago, who lusts for Desdemona, burn. So all four "roll together" on a wheel of fate when Iago, who loathes Cassio, manipulates all his "puppets"—luring drunken Cassio into a comic brawl that angers Othello and dangling Desdemona's love gift from Othello (a precious fan woven by his mother) with half-heard innuendos that convince Othello that Desdemona and Cassio are lovers. Tortured mad, Othello is transformed into a demon of jealousy. When Desdemona is "tried" for infidelity, Emilia realizes Iago's treachery and tries to reveal it, but Iago stabs her. A chorus of Koken guide Othello in his sad deed—stopping Desdemona's breath by winding her lengthening hair about her throat. When it is done, Othello stands as "the ghost that is alive."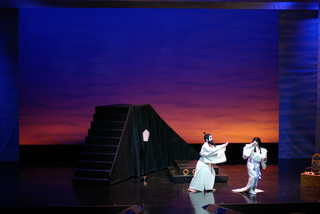 KABUKI OTHELLO is at The Other Place, Hanover College, IN, Feb 10-14, 2016, directed by Jim Stark